Twenty-five percent of Australian Defense Force veterans live with debilitating post-traumatic stress disorder.
Alarmingly, a veteran commits suicide every two weeks.
A Sunshine Coast charity is working to reduce those numbers by covering the costs of an otherwise expensive animal therapy program.
PTSD Dogs trains appropriate rescue dogs to provide mental and physical support to sufferers seeking a better quality of life.
Among their skills, these highly trained dogs can sense pain, remove laundry from the machine, and provide weight support.
It costs around $40,000 to train and house a dog. Although this is a recognized therapeutic support, there is little funding available for those who need a service animal.
That's where PTSD Dogs comes in. They cover all associated costs, including ongoing training and vet bills, but they need help from the community.
CEO and founder Angie Weeks said while the organization hoped to find a major benefactor, donations large or small would help secure the charity's long-term future.
Ms Weeks, who started PTSD Dogs after her own experience with the debilitating disease, said the program fills a gap for sufferers.
Her husband Roger suffers from PTSD. He spent 14 years in the Air Force, which left him with chronic pain that led to major spinal reconstruction surgery.
"My husband, in February 2018, told me about his exit plan," Ms Weeks said.
"His psychiatrist in 2014 had recommended that he get a trained service dog for PTSD.
"It was going to be a four year wait and cost $40,000 and I knew I didn't have that time.
"That's where it all started…He's had Rosie, his PTSD service dog, for three years."
Ms Weeks said Rosie had changed her family's lives.
"[PTSD] is a silent disease. These people tend to close themselves off and isolate themselves.
Between 2001 and 2018, 465 ADF men and women committed suicide. Among them, 57% were veterans.
Help keep Sunshine Coast news independent and fair by subscribing to our free daily news feed. All it takes is your name and email. See SUBSCRIBE at the top of this article
Key findings from the 2020 Veterans Affairs Transition and Wellbeing Research Program found that those who had been discharged were at greater risk of poor mental and physical health outcomes compared to the rest of the population. Australian community and those who were still serving.
Compared to those still serving, almost three times as many transitioning ADF personnel had high to very high post-traumatic stress symptoms.
PTSD (17.7%), panic attacks (17%), agoraphobia (11.9%) and social phobia (11%) were the most common types of anxiety disorders among veterans and those who have made the transition to reserve service.
Sunshine Coast veteran Laurie Cattanach has been diagnosed with PTSD after 16 years in the Australian Army.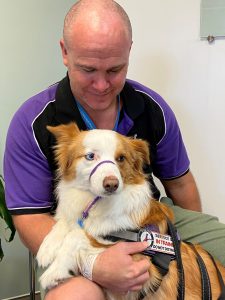 The 45-year-old father of five has had nine surgeries and had a neuro-stimulator implanted in his spine to relieve pain.
He met Mr and Mrs Weeks at Eumundi Markets where they were fundraising for PTSD dogs, he applied for the program and was accepted.
October marks four years since Buddy the border collie came into Mr Cattanach's life.
"Before I got it, I had a hard time leaving the house," he said.
"I haven't really seen many of my five daughters. I was struggling, barely getting out of bed and not part of the world.
"I had chronic pain for a very long time. Buddy learned to feel my pain.
"He's trained to be able to smell it and kick me to let me know. If I stand too long I start to hurt and before I know it I'm really in pain.
"I clench my teeth a lot at night and it gives me headaches. Buddy learned to come and wake me up.
Buddy is also able to provide physical support when Mr. Cattanach walks.
"Many people with PTSD and mental health issues, especially in the military, struggle to lead normal lives," Cattanach said.
"A service dog allows us to live a more normal life than we would without a dog.
"I'm in the process of taking an art class and learning a lot more skills to hopefully be able to sell as an artist. Buddy made it possible for me to do that.
"I was a very angry person because I was in pain all the time. Buddy will give me that love and affection unconditionally.
"I now find that I am able to give back more love and affection to my daughters."
PTSD Dogs has trained 20 dogs through the program and each has been rescued from death row or a family that could no longer house the pup.
"I'm grateful that I was able to help people," Ms. Weeks said.
"I am extremely grateful for what we were able to accomplish and for the people who came into our lives.
"I look back now and think, 'wow'.
"What we have achieved in a very short time is due to community spirit."
For more information about the program or to donate, visit ptsddogs.org.au
If you need help, contact:
Open Arms – Veterans and Family Council – 1800 011 046
ADF 24 hour helpline – 1800 628 036
Lifeline – 13 11 14
Beyond Blue Helpline – 1300 22 4636